Do you want to visit Paris? Traveling freely in Ile-de-France? The daily package Paris Visit Pass is for you!
The Paris Visite pass is valid for 1, 2, 3 or 5 consecutive days and it is valid according the option purchased :
- In zones 1 to 3 : travels in Paris and the close suburbs
- In zones 1 to 5 : travels in Paris, the close suburbs & until Orly/CDG airports, Disneyland and Versailles
HOW TO CHOOSE YOUR ZONES ?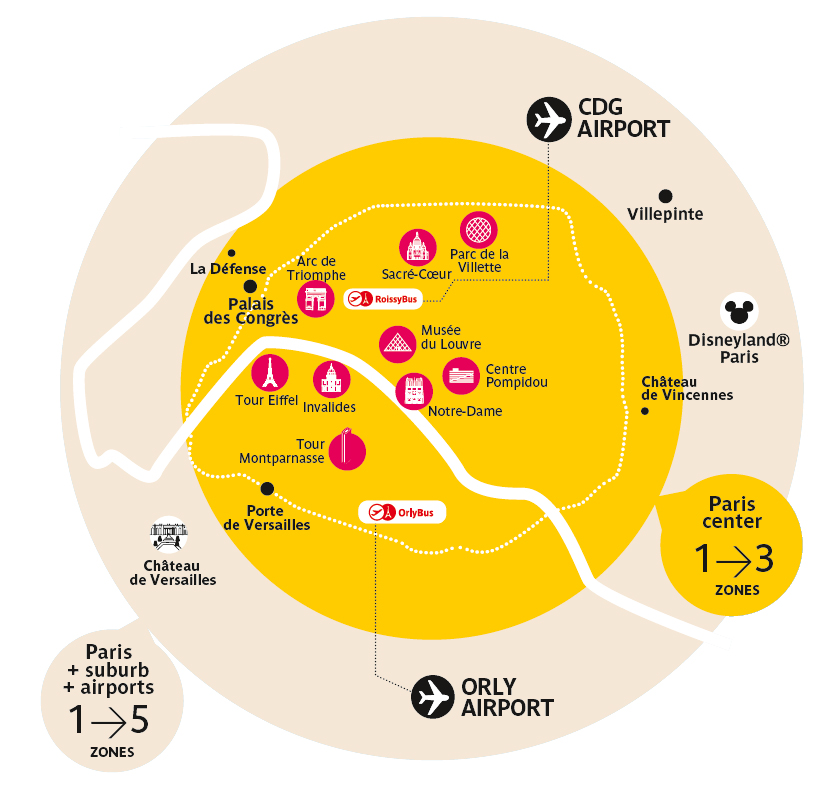 Depending on which zones you select, Paris Transport allows you to travel on: metro lines, RER lines (RATP and SNCF), Ile-de-France bus lines (RATP and OPTILE), except those circulating on Jetbus, Allobus Roissy CDG, tourist excursion and Air France networks, Tramway lines and the Montmartre funicular

Before using it, you must write your last name, first name and the valid dates on the magnetic ticket. Once named, the magnetic ticket is personal and non-transferable.


PLEASE NOTE
> The validity period goes from the first day at 0h to the last day until 24h.
> Public transport is free for children under 4 years old.
> There are rates for adult and child from 4 to 11 (includes 10% management fees).
> If your transport ticket is not working properly or is demagnetized, the RATP agents at the ticket desk in any metro or RER station will replace it at no cost.
For more information regarding transports in Paris and around, please see our FAQs.